Afraid of falling through due to the lack of knowledge of FHA Debt-to-Income (DTI) Ratio requirements? Do you get frightened when you think of inspection carried out on behalf of the mortgage lender?
It is time to heave a sigh of relief because, in this thoroughgoing article, you will get to know what FHA Debt-to-Income (DTI) Ratio is and what its requirements are so that you can easily pass the test when the lender comes at your house for the verification.
Application for an FHA-insured home loan can only be approved and you can only make it to the loan if you are complying with the guiding principle of FHA DTI ratio – FHA Debt-to-Income ratio.
To reward you the peace of mind, we have decided to offer you an overview of the limits for the FHA DTI ratio so as for you to figure out the current requirements.
In 2019, the present-day FHA limits for DTI ratios are 31%, concerning house-related debt, and 43% for the overall debt. But, there is no need for you to discourage as there are exceptions to these rules and therefore, you have the gone to some extent above these numbers or percentage.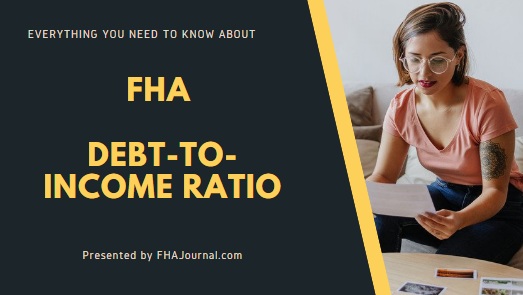 FHA Debt-to-Income (DTI) Ratio Requirements in 2019
When it comes to personal finance, the rule of thumb is that you get to earn more than you have to spend. It is as simple as that. However, this is what you think, not the mortgage lender.
You think the loan lender has something to do with how good you are to your boss or how talented you think of yourself in your industry or how much you specialize in what you do?
Verifying that you are not a financial risk to his business is his primary duty and this is what is good at. And that's where the requirement of FHA Debt-To-Income Ratio comes in. Indeed, you will need to show him the FHA DTI ratio in order to successfully get the approval for the loan or you will highly likely to fail in the middle of the process.
Your mortgage lender has nothing to do with your skills but salary. Yes, how much you earn is what his concern is. He, beyond doubt, will look into that matter – i.e., how much you are earning from what you do.
What is FHA Debt-to-Income (DTI) Ratio?
Let's begin with the basics first:
An FHA Debt-to-Income (DTI) ratio is the percentage of the income of somebody that is used with an intention to cover his or her recurring debts. This is required when you are lent a loan by a loan lender. The loan lender sees if you are satisfying all of the criteria of the FHA DTI ratio or not.
If you come to nothing in this regard – i.e., you dissatisfy policies of the FHA – you will not qualify for the loan which will be a huge loss for you, especially when you are in a great need of it.
Therefore, meeting FHA DTI ratio guidelines fully, on the top of FHA appraisal, is something that you must do in order to qualify for the loan or you will miss out on it and all of the efforts that you put in the hope of getting approval for the loan will go in vain.
How do you think a DTI is calculated?
Well, the calculation of an FHA DTI comes into play when analyzing the gross (pre-tax) income of the person who is lent the loan – i.e., the borrower.
FHA Ratios Calculator
There are basically two types of numbers that can affect the qualification – i.e., these two factors can change the whole game for your loan approval.
They are as follows:
Front-end Ratio:
When it comes to a front-end ratio, merely the house-related debts calculations are taking into consideration. Let's say, property taxes, home insurance, HOA fees, mortgage payment, etc.).
Note: The rule of thumb is that your front-end DTI ratio should be 31% or less than that because that is what the lenders are looking for.
Back-end Ratio:
The back-end ratio is executed on the basis of all recurring monthly debts into account. So, whether it is your car loan, mortgage fee, or credit card, home insurance, HOA fee, student loan, everything will be taken into account for the calculation of this ratio.
Note: The basic rule is that your back-end ratio needs to be less than 43% or a reduced amount of it because if it is higher, I'm afraid that you won't be able to qualify for the loan.
FHA DTI Ratio 2019 Formula
What is the formula to calculate the FHA Debt-to-Income Ratio? How can we calculate our DTI and stay ahead in the game?
Well, this is quite simple, isn't it? All you have to do is divided your monthly debts by your pre-tax (gross) income.
For instance, if the total of your recurring monthly debts is $2,000 and your gross monthly income, let's say, is $6,000, then you are going to have a DTI ratio of 33%.*
*This is just an example and has nothing to do with the requirement to be considered for the loan approval.
Formula of DTI = Monthly Income/Gross (Pre-Tax) Income
So, this is how you can easily calculate your or anyone's, such your friend to understand if you are able to qualify for the loan or not. If not, you have to prepare yourself for it.
HUD has instructed the special guidelines for both lenders and borrowers with regard to the FHA Debt-to-Income ratio and conventional Debt-to-Income ratio which, we believe, you must read out carefully to be familiar of what is required. That's who you will learn more about the FHA DTI Limits and will be helpful for you in the long run.
The HUD speaks about the important of DTI in its guidelines. It says that DTI qualifying ratios are extremely important for the borrowers. Their qualification will determine that they will lend a loan and that will only happen if they meet certain expenses involved in the homeownership, and provide for borrower's family.
FHA Debt-to-Income Ratio Limits for Mortgage
Nevertheless, it has already been discussed in this thorough article, if you didn't pay attention to it, we would like to have your attention.
Being in line with FHA course of action, the loan borrowers can are limited to have the debt ratios of 31% when it comes to "front-end" ratio, and 43% for the "back-end" one.
However, in certain conditions the back-end ratio limitation can be stretched a bit, making it as high as 50%. This offer only is applicable only for some borrowers, like those having a good credit card, among other "compensating factors".
Is there a willingness inside of you towards learning more about "Debt to Income (DTI)", "Compensating Factors", or "Credit Scores"? Don't come unglued – we suggest taking a look at the table attached on this page underneath.
Footnote: Though this is the current year's (2019's) DTI Limits, if there are likely to be any change in the Limits, we'd love to shed lights on the same for enlightening you in the first place.
Compensating Factors for Debtor with High Debt
It is believed that if the percentage or number goes beyond the limits permissible for the DTI ratio, it could be a pain in the neck for the borrowers or debtors. Perhaps, it may happen, however, that's not always the case. There are some exceptions to this.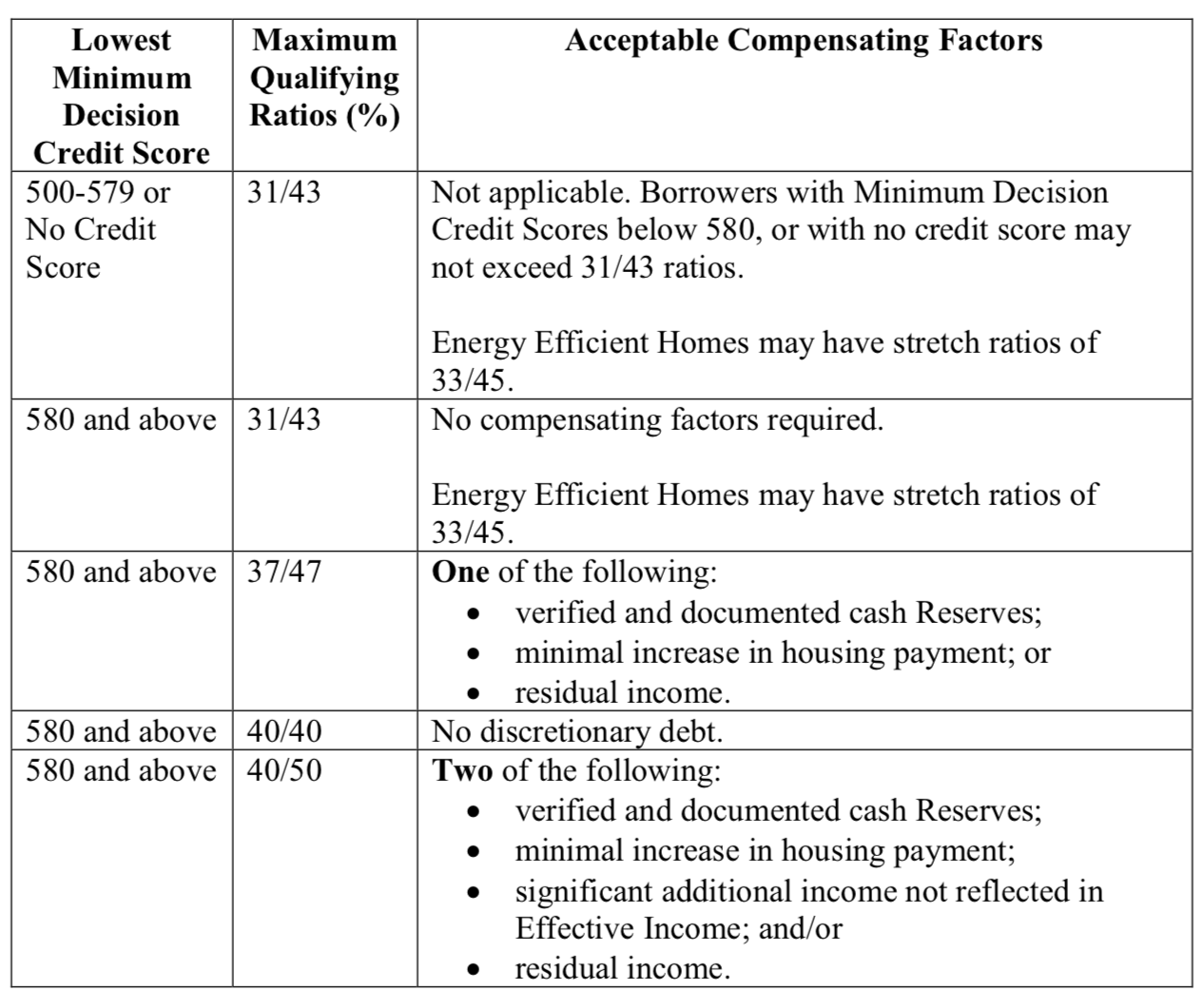 It could feel hard to breathe for the borrowers, especially when it all goes against the grain of the limitations. Still, HUD gives an opportunity to some borrowers a breathing space and that is merely imaginable if the lender, lending you the loan, can find the document "Significant compensating factors".
The following is what could be listed on the list of "Compensating Factors" for sure. Take a glimpse:
Residual Income: Don't have any idea about what the "Residual Income" is? Don't panic, we have got you covered right here. It is the money that is available once all of the major expenses are paid, including debt payments, housing taxes, and others.
Minimal Increase: If the home loan being assumed is only going to result in a minimum rise in the debtor's once-a-month housing costs, the borrower may still be able to qualify for the FHA loan with a higher-than-average debt load. If even after all of the debts, the borrower is having adequate residual income, he/she may be able to qualify for the FHA loan.
Cash in Bank: The lenders can give the borrowers a breathing room if they meet certain conditions. They can provide the debtors with leeway if they find the borrower has substantial cash in the bank account, for instance. What "substantial" means here is that borrower has enough 1 to 3 months money in the bank worth the loan payment even after closing.
Do the applicants, applying for the FHA Loan Application have to satisfy all of the "Compensating Factors" for real?
Not necessarily.
One or more will do it. Yes, if you are struggling with the FHA loan, you may have to get approval only for one of all factors.
If there is still a willingness inside of you about getting to understand more about FHA Debt to Income Ratio (in 2019) and not letting you let go this matter out of your hands so easily, we strongly recommend that you refer to the official HUD handbook 4000.1 for "Single-Family Housing Policy Handbook".
If that doesn't work out for you, perhaps meeting an HUD-approved lender will make a huge deal to you.
What is FHA DTI Ratio in 2019?
We've said it many times and say it again that you have to keep the Limits of FHA Ratio in mind before it is always a good practice to do so before you register for an FHA loan. This will help you make sure that you are doing everything the right way.
Accordingly, no matter what, the max. FHA debt qualifying ratio for all borrowers needs to be 31% and 43%. What we are trying to explain is that your once-a-month housing payments must not go beyond 31% of the gross monthly income and the overall debt burden must not be higher than 43% of the monthly income.
However, since we have stated above that there are exceptions, therefore, it could the good news for some borrowers in case they meet some certain conditions.
Summing up!
Though it is our prime responsibility to keep this blog up-to-the-minute with all new updates, there might be the probability that the data or figures laid out beautifully above may seem imprecise over time. This is because the HUD keeps changing the FHA requirements every now and then. The reason why we built this blog is to keep our users satisfied because we use plain English that is easy to understand for any first-time user or any returning user. By doing this, we don't mean to alter or substitute the original information shared by the main website. For the most recent updates, you might want to go to the official website of HUD, accessed at www.hud.gov.