Loan takers get overwhelmed whenever they come up with the idea of buying Mortgage through FHA because, perhaps, this is their first time doing this. Are you also one of those who are struggling to catch on how much house you can afford through FHA?
If affirmative, you're not alone! We, in recent times, have seen people making queries on search engines like:
How Much House Can I Afford To Buy?
How Much House Can You Afford through FHA Loan Calculator?
How Much FHA Home Loan Do I Qualify For?
How Much FHA Mortgage Can I Qualify For?
On the flipside, those who have been doing this do not need to look up anything like that as mentioned above. So, if you are all new to this, this comprehensive guide is for you.
A quick question.
Do you need to qualify for an FHA house loan?
We know you do, because you didn't, you would not be here, would you? Well, let's get a quick answer to "How Much House Can I Afford through FHA" and later dive into a detailed overview of it.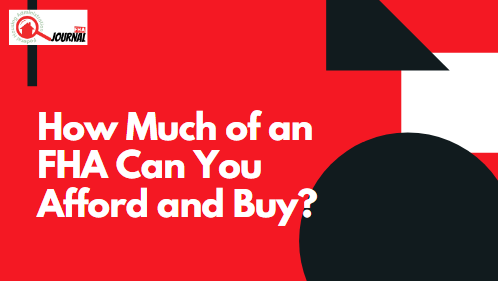 Let's reveal the truth…
Quick Answer: The rule of thumb is that you must meet the criteria of FHA's debt-to-income ratio aka DTI, which says that your DTI ratio or Debt-to-Income Ratio should be 43% or less than that of your gross monthly income. However, in certain cases like when you have got a lot of cash in your bank account, a slight increase (up to 50%) in the overall debt ratio percentage can work.
The fact is that the overall amount of house that you will have to afford is directly related to how much money you earn on a monthly basis. So, your salary is definitely going to have an impact on the overall. The compensating factors, for example, excellent credit, large down payment, may also affect the approval for an FHA house loan.
How Much House Can I Afford Through FHA?
Though we have already defined the FHA's DTI ratio above, it is also what the loan lender decides in terms of giving you the qualification. All of this works in accordance with the guidelines of HUD – Department of Housing and Urban Development.
In simple words, we can say that HUD provides you with instructions using which you can determine the value of your house through FHA Appraisal and how much of an FHA house mortgage you can afford to buy. In this area, the FHA Loan Calculator can be used in order to understand the working of it and to eventually come up with an estimate of buying Mortgage.
The official lender that will be lending you a home/house will look into the detailed guidelines as mentioned in the official HUD Handbook 4000.1 so that you can safely get a loan for buying a house. There are requirements that need to be met in this regard.
If you are a borrower, you will come across all of the FHA's ratio requirements in the handbook (go to Section II-A-5 to directly jump to necessities). The ratio we are referring here is the FHA's DTI ratio and we earlier talked about passing which you can easily qualify for a mortgage loan.
We know that DTI ratio is not the only factor that affects the approval of your loan, but if you clearly satisfy the requirements of the ratio, we believe that you won't have any problem meeting other criteria. So, the DTI ratio plays a significant role in the overall process of deciding how much house you can afford via FHA through Calculator with an intention to buy a Mortgage.
How to Use Loan Calculator to Qualify for an FHA House Loan?
Learning to use the loan calculator the right is also an essential part of knowing how of an FHA loan you need in order to buy a mortgage. There are plenty of websites that can walk you through step by step, still, you need to be alert to awkward websites that provide no useful information to the borrowers.
Essentials vs Desires
First off, you need to understand how much house you need to buy, not how much house you want. We think you got what we mean. To make a smart decision, you have to comprehend the fact that you don't have to buy a house based on your wants, but needs.
Why?
What if you qualify for more house than you actually need? Will you spend your dollars on that knowing that it will be waste? Of course, you won't and that's why we suggest you think about it as clearly as you could.
We know there are other house lenders and their policies are different than that of FHA or HUD. Therefore, if you have to qualify for a house loan through FHA, it is definite that you will be in need of satisfying all of the FHA requirements.
To buy Mortgage through FHA for your house, you will need to be in line with the Debt-to-Income ratio requirements. Meeting all of the "FHA Loan Income Requirements" will eventually help in qualifying for a Mortgage and you will be able to afford your dream house through FHA for sure.
FHA Debt-to-Income (DTI) Ratio
Getting approved for DTI ratio is one of the important factors to qualify for a home loan. You can use the following formula as a Loan Calculator (if you are not much of the calculator) to see how much money you need to get going.
The formula of FHA DTI is as follows:
DTI = Monthly Gross Income% / Overall Once-a-month Debts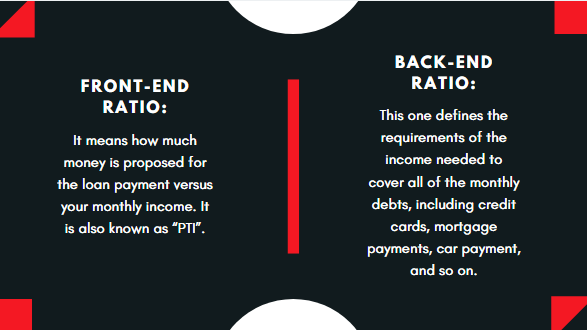 Remember, the DTI ratio works with a two-part ratio: "Front-end" ratio and "Back-end" ratio. Hence, the following must also be met:
Front-end Ratio:
It means how much money is proposed for the loan payment versus your monthly income. It is also known as "PTI".
Back-end Ratio:
This one defines the requirements of the income needed to cover all of the monthly debts, including credit cards, mortgage payments, car payment, and so on. This ratio can also be called as "DTI".
The guideline is that you can take "31/43" for granted for an FHA loan approval. This is how a loan/mortgage lender concludes how much of an FHA house loan you can qualify for.
Can you give me an example describing how it works?
Yes, we would love to.
Suppose, you, as a borrower, are earning a gross one-a-month (monthly) income of $5,000. Now, according to the FHA house loan guidelines, your monthly debts must not be more than $2,150 which includes the mortgage payment and other recurring expenses.
How?
Well, the formula is here: 5,000 x .43 = 2,150
The overall mortgage payment, no matter what, must not exceed $1,550.
How we got this number?
This is how: 5,000 x .31 = 1,550
Can you not get some leeway?
Yes, you definitely can. However, that depends on the compensating factors that could include the "Credit Score", "Total Cash in Bank", etc. Having said that, you can get the allowance up to 50% for meeting the DTI ratio.
Compensating Factors Affecting FHA Mortgage Loan
What are the factors that have a huge impact on the final approval for an FHA home loan?
Here's the list of the factors:
Residual Income
Minimal Increase
Cash in Bank
There could be other factors which you can come to know if you talk to a mortgage lender up front: How much an FHA house mortgage can I qualify for? They are professionals and are very good at what they do, therefore, they will be able to help you out easily.
They will come to your house and inspect the situation professionally. Then, you will be informed on the debt situation, and credit history on the basis of your monthly salary as it is directly related to the Debt-to-Income ratio.
How Much House Can You Afford to buy via FHA Mortgage?
We've already given a well-defined approach above through which you would have got a clearer picture. However, in your case, the statistics could be different and therefore, the FHA loan to qualify for may also differ.
It is better to make use of the formula we have provided above to calculate the overall percentage to meet the DTI ratio when buying a home through an FHA appraisal.
Just like knowing whether you can qualify for the FHA house loan, it is also crucial to pay attention to the affordability because if you can't afford to get an FHA mortgage to buy a house, it's not worth your time nor is it worth your efforts.
However, this is far simpler than you think. But what if I don't meet the guidelines or FHA requirements in the first place? Having done the calculation through the FHA Mortgage Calculator, if you don't come up with the required ratio.
How Much Home Can I Afford FHA? – Other Factors
To get a picture of how it all works, you can consider the following:
Have a comparison between your gross monthly income and the overall expenses that you spend on a monthly basis.
Here, "expenses" mean everything that you spend money on provided that it is not housing-related. This is likely to comprise gas, credit card bills, food, entertainment, car payment, and so on.
Subtract your once-a-month non-housing expenses from your take-home income. After subtraction, what is left is the amount that can be used for the loan/mortgage payment.
You don't have to use all amount because doing so will trigger the elimination of emergency funds. However, it will provide you with a beginning point doing a calculation on your monthly budget to buy a home.
To start saving from today, what you need to do here is that you have to set aside the money so that it can be used in the future.
Your goal should be having additional dollars left every month, having paid your mortgage fee and all your monthly bills. Doing this will eliminate the unexpected costs that may stand up. These costs could include the cost you pay for the repairing of your car or hospital charge.
So, it is time to give yourself a financial leeway in order to increase the chances of getting approved and also give you the chance of being familiar with the requirements needed to qualify for an FHA house loan.
What Else Will I Need to get an FHA House Loan Approval?
The required income plays an important role in the overall process of getting an approval, however, there are things you can have in mind in order to make it work like a charm. And who doesn't want that?
Here're a few things (other than what we described above) that a mortgage lender will look out for:
Debt-to-Income (DTI) Ratio: We've already talked about it above briefly. If you need to know about it in detail, we've suggested the same through a link above. See why a DTI is important in getting loan approval on behalf of a mortgage lender.
Credit Score: One of the things that have an effect on the approval is your "Credit Score" which, in accordance with HUD, must be 580 or more than that – i.e., in order to get approved for an FHA loan with the highest financing (and the 3.5% down payment). The FHA mortgage lenders may often ask for the higher credit scores.
Down Payment: Among others, the down payment required for an FHA loan is also significant. One who is lent an FHA loan is required to pay 3.5% of the appraised value or the purchase price. Therefore, this is something you must pay heed to when comprehending how much house you will need to afford for an FHA loan.
Bottom Line on "How Much House Can I Afford Through FHA?"
We believe we have answered all of the questions that you have pertaining to the FHA house loan that you can qualify for and afford based on your monthly income/salary.
It is crucial to keep these things in mind to have a better answer before you decide to apply for an FHA loan for the house.
Disclaimer: Though we have tried out best to keep the information as up-to-the-minute as possible, we cannot guarantee the preciseness of the information because the DTI ratio may increase or decrease slightly. However, we find it our prime responsibility to provide you with more update content so that you don't have to feel lost when looking for the alternatives to get an FHA loan.