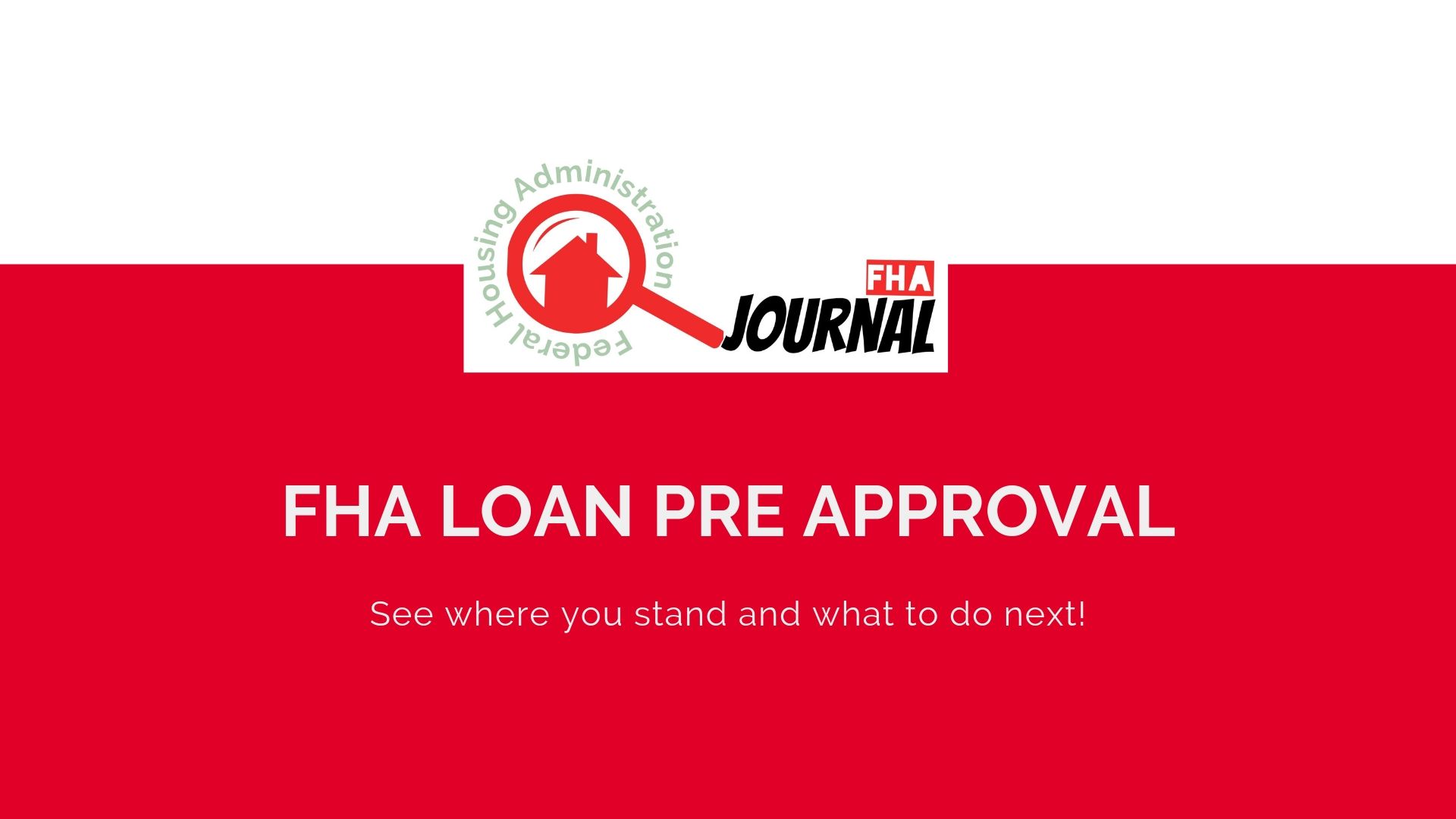 Is it being dreadful for you to even picture 'FHA Loan Pre Approval' in mind? Why on earth should you even consider the 'Pre-approval' while getting a fruitful approval for an FHA loan? What good will it do to assure you the uninterrupted experience in the end-to-end process of an FHA loan? I know that your mind is full of questions right now, and it always craves for the answers unless you be mindful of every prerequisite for the 'Pre-qualification'. Well, let's feed your mind.
People buy and sell houses whenever they sense a feeling about doing so. For an expert, it could sound like a 'child's play' to purchase or sell houses, however, it could become a nuisance for a newbie. I've already told you that you have to qualify for an FHA loan in order to get your dream house and to get a successful approval for a loan from an FHA-approved lender, following the criteria, no doubt, is one of the requirements to keep in mind.
FHA Loan Pre Approval
There's a whole lot of steps to be followed in the right manner and that's how one (especially a loan borrower) can make sure that one gets what one deserves. The 'FHA Loan Pre Approval' plays a significant role in the overall process because if you don't go that way, the lender won't hesitate to reject the loan request – i.e. if all requirements are not met. Therefore, a deep analysis of the required document is also done by the lender with the aim of making sure that you are complying with all rules.
Though there are several lenders that may require you to follow some specific directions for the loan approval, since our guide is merely about an FHA loan, we will only focus on 'FHA Loan Pre-approval'. We don't want to make it confusing to you, therefore, we will begin from the basics.
What is an FHA Pre-approval?
What does FHA Pre-approval mean? Well, as you could see that it has 'Pre' attached before 'Approval' which clearly means that this is something that needs to be done before you consider the loan application. But what on earth is evaluation this the pre-approval takes place and what are the things that a borrower has to follow?
When you apply for an FHA home loan, it doesn't always mean that you will qualify for that. There's some evaluation done by mortgage lender's side. The pre-approval is one of those appraisals handled by an FHA-insured mortgage lender. Making sure that you won't become a problem for the lender is highly important for the loan lender and there are a couple of aspects that are taken into consideration for a successful FHA-appraisal to come about.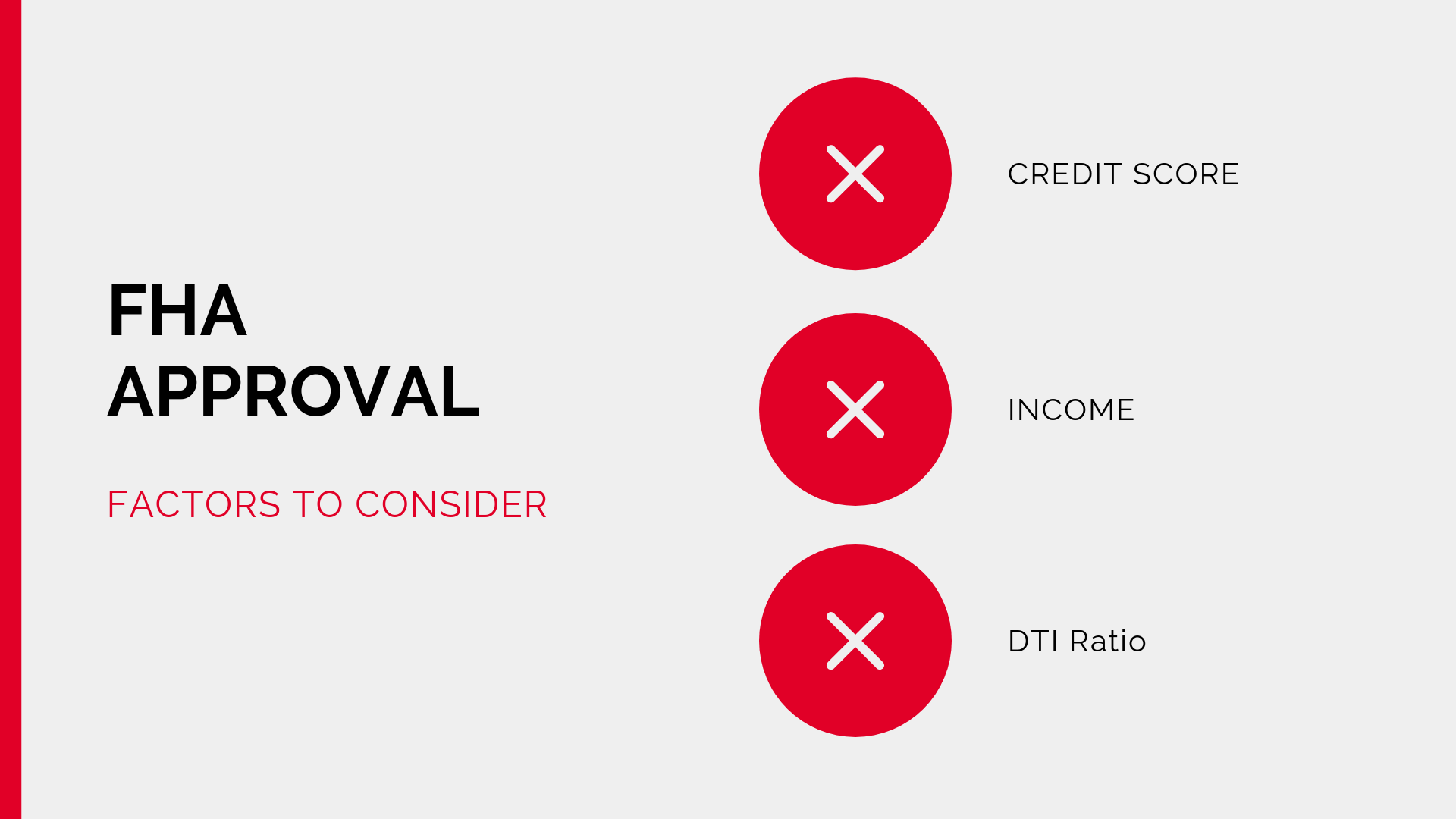 1. Credit Score
First off, you must make certain that your credit score is as good as it could get. In order to get your FHA loan approved, you have to have an as higher credit score as possible. When it comes to a normal credit score requirement from most lenders, the cutoff becomes 600, however, in case of an FHA loan, the credit score needs to be more than that. But this doesn't mean that you cannot qualify for an FHA loan if your credit score is below 600 – it is definite that you can get the approval, still, there are other factors that will impact the approval. Learn more about whether you can qualify for a 600 credit score loan or not.
2. Income
Though I believe that you can pass the credit score test easily if you have been paying your taxes and other repayments on time, however, if you think that you cannot make it, your income can have a huge positive influence over the approval process. Yes, lenders are also interested in knowing how much you are earning per month or annually. This helps the lender be confident that the money that lender will lend you won't be at risk because you're making an impressive amount every month of annually.
3. Debt-to-Income Ratio
Now you know how important your income is to the lender or loan, but that's one side of being sure that you will get the approval. The financier will also run a comparison between your income and the total debt you have. That's what is referred to as 'Debt-to-Income (DTI) ratio' and to evaluate it, the lender will look up how much you are earning and how much you are spending to cover the debt you have each month.
The rule of thumb is that your DTI ratio should be as low as possible. The lower your DTI ratio is, the more chances there will be for an FHA loan approval. Suppose, if you are spending more than 45% of your income on your debts (monthly), including your loan payment, it could become too hard for you to get an FHA loan, however, it doesn't mean that is not changeable.
4. Assets
While you get ready for an FHA Loan pre-approval procedure, you may also need to provide details to the lender about your assets. It may include your savings account, stock dividends, 401k, and so on. This will assist the lender to be sure about how much money you are able to pay. This way, you can also cover the minimum down payments and closing costs by having enough funds in your savings account. Depending on the lender's rules, you may also be required to meet cash-preserve requirements. However, that's not true in every lender's case.
Required Documents for FHA Loan Pre-approval
Will there not be any documentation in the meantime? As a matter of fact, there will be because getting a pre-approval for an FHA loan is done legally, which is why you will have a record of everything. Here're the most requested documents by an FHA loan lender that you need to get ready:
Social Security Number (SSN)
Paycheck Stud (Payslip) for the last 2 months
W-2, Wages and Tax Statements (for last two years)
Bank statements (for last two months)
Documents that relate to other assets of yours
Employment verification letter
Divorce declaration (if applicable)
Important:
This is not a complete list of the documents requested at the time of pre-approval – other documents are likely to be asked by the lender while you apply for an FHA loan.
FHA Pre-approval Letter
Once you agree with all of the terms and conditions of an FHA mortgage lender – i.e., meet all of the requirements, including that for the documents as mentioned above, the lender will send you a letter which will state whether or not you are able to qualify for the loan. The letter will also clarify how much the lender is willing to lend you. All of such information will be laid out in a professional manner in the letter, sent to you by the lender.
Your ultimate goal is to get the loan qualification which will require being truthful to the lender. Being successful for the pre-step doesn't mean that you will get the loan for sure, sometimes, things may not work in the same way we plan them. So, always keep your eyes and mind wide open when getting both pre and final loan approval.
Pre-approval: FAQs
Borrowers, particularly those who are trying to get the pre-approval for the very first time often get confused between pre-approval and pre-qualification.
So, are they different or there are similarities?
Well, let's be familiar.
What's the difference between 'pre-approval' and 'pre-qualification'?
A normal person may use two words in an interchangeable manner, however, from a lenders viewpoint, they are poles apart.
If as far as the 'pre-qualification' is considered, it doesn't have to be as beneficial as pre-approval. A borrower can easily qualify for a loan on the basis of what the debtor tells the financier (lender). This will only require the answers to a couple of questions. Meaning, the pre-qualification is not a long process.
The 'pre-approval, on the contrary, is going to take your time and this will require all documents that we've discussed above. In this process, the lender will be completely aware of your financial situation. The lender, in this step, will do everything to make sure that his money is not at risk and that you have been paying all of your debts on time before. Once the lender accepts your proposal, he will send you a letter telling you that your FHA loan has been accepted.
How much time does it take?
I think what you are referring to is 1-hour payday loan which only takes hardly one hour, but not more than that. But, that's a different story. In order to have an FHA pre-approval completed, it will take around 1 to 3 business days. In some circumstances, it might be even more. But again, that depends on what type of mortgage lender you are meeting with and how your financial status is. If you've been maintaining a good (or excellent) credit score in the past, odds are you will not only get the pre-approval for the final approval for the loan.
How long is pre-approval valid for?
The letter that you receive will have a date written on the top of it. It will give you a clearer picture of how long it is going to be valid for. There you can see the 'Expiration' date. Remember, the format and the process of approval may vary from lender to lender, therefore, you could see some slight changes in the process. Most of the pre-approval letters have the expiry date of 2 to 3 months.
To be sure of it, you will find a note at the bottom of the letter that will say it all clearly – i.e., how long the pre-approval is going to last. You're strongly recommended to read all of the instructions to avoid being lost in the process. So, pay attention to each instruction that is printed on the letter that you receive after the approval.
What does the letter include?
That depends. Yes. That depends on the lender whom you are lent the money by. However, mostly it includes the basic details about the loan you have been approved for. It may include the total amount of the loan you will get getting, and perhaps, the details of the down payment, and the date when the repayment will be done.
Among these, you will find information about underwriter approval, acceptable approval, valid sales contract, etc. But, these details are going to vary from lender to lender. So, keep track of the guidelines and the instructions given especially for the borrowers.
Does FHA Loan Pre Approval mean that you'll get the Loan?
No. It doesn't work like that. Though you get once step closer to the complete process of getting an FHA loan, being approved for a pre-approval doesn't mean that you will get the financing for sure. The conditions that you are supposed to meet may vary for both pre-approval and the main approval.
So, you can consider the "FHA Loan Pre Approval" as a preliminary test which, if you pass, will allow you to go to the next test which will be the main approval. In order for the appraisal to take place, you have to have a good credit score (if not an excellent one).
There you have it – the ultimate guide on the 'FHA Loan Pre-approval'! If you still have questions about the pre-approval for an FHA loan, it is never too late – put them in the comment segment and our professionals will be there to guide you. If you enjoyed reading this article, please spread the word – we'd be thankful for that!